Water Pumps
All Water Pumps & Heating Pumps Serviced,Repaired & Replaced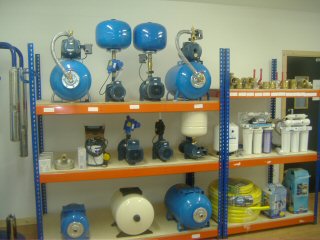 All properties need to use a heating and water pump to provide us with heat and clean running water, whether it is in your home or business. Like all things, over time, your pump will stop working. This can happen for a number of reasons, so it is always good practice to adhere to the manufacturer's recommendations and to have your water pump serviced annually. This will ensure that you get the maximum performance for your pump and increase its lifespan.
We stock a full range of the most popular pumps; including Stuart Turner, Grundfos, Wilo, Watermill Pumps and Aquatech Pumps. So whether it's a pump service, pump repair, or a replacement pump our team have the expertise to deal with the problem. If you haven't seen your water pump manufacturer mentioned above this isn't an issue as we are accustomed to working with all models and makes of water pumps.
At SOS Dublin Plumbers we are always on call 24/7-365 days a year offering a full heating and water pump service for our business and domestic clients. We cover all areas across the whole of county Dublin. Whichever sort of pump you have, we can assist by offering a comprehensive service, repair, and full replacement for any make or model of heating pump.
We have traded for many years now and some of our Dublin plumbers have over 40 years experience in the heating and plumbing services industry. All of our staff are fully trained in all aspects of the trade. They are all R.G.I. registered and fully covered by our full private and public indemnity insurance. This ensures that our customers have the utmost peace of mind.
We make sure all of our team have on-going training within the industry so we are always up to date with all aspects of parts and service including new water pumps. All these factors and our vast experience ensures that whenever you call SOS Dublin Plumbers, you have 100% satisfaction guaranteed.
If you need your water or heating pump serviced, repaired or replaced, please call one of our local plumbers in Dublin on 01-2844921. One of our senior Master Plumbers will be able to help you with free advice and a no obligation quote
• Water & Heating Pump Services Without Any Callout Fees
SOS Dublin Plumbers do not charge for cal louts. We always operate an open and transparent pricing policy.